About the City of Woodinville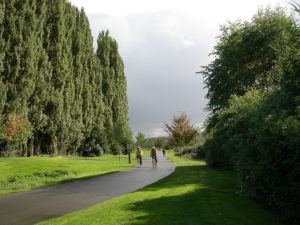 Originally inhabited by the native Sammamish people for thousands of years, the community of Woodinville was established by Susan Woodin in 1871. Like other nearby towns, Woodinville began as a logging community and became a farming center in the early decades of the 20th century. After World War II, it developed into a suburb of Seattle. Today the estimated population is 10,000 residents and this beautiful city has waterfront parks on the Sammamish River, sweeping winery and brewery grounds, and densely wooded residential areas. Woodinville has several events for its residents, including a summer concert series, 5k and 10k runs and a downtown tree lighting ceremony.
A Look at the Property Market of Woodinville
This charming city's proximity to Seattle, high quality of life and low crime rates make it an attractive and desirable place to live. Woodinville has eleven geographic neighborhoods within the city limits, like East Wellington which has low-density, single-family homes while the town center is the retail center and has several shops and restaurants as well as some housing. Woodinville contains two historic and scenic rail lines and is served by both Sound Transit and King County Metro Transit. Home prices here marginally dropped 3.6 % this year while inventory marginally declined by 10.2 %. Some of the homes here have designer touches like sleek granite kitchen islands and beautiful outdoor landscaping.
How Can Umano Property Management Help You?
We are a full-service property management company offers property inspections, rent collection, financial reporting and tenant screening to our clients, just to name a few. Umano's responsive staff are always ready to answer your questions with their extensive knowledge of Woodinville's property market. Whether you're a tenant, property owner or potential investor, we can be your guide to managing your property in the best possible way. Get in touch with us for a free rental analysis to find out how much your home should earn monthly and learn simple techniques for boosting your earnings.
Call us at (206) 686-3661
Discover Our Services
Professional solutions to maintain your property and improve your equity
Why Choose Umano PM?
Learn why we offer the right fit for you
We Put Our Focus on Healthy Communication
As your property manager, our goal is to represent your home to the best of our ability and  make certain you're always aware of what's happening in your rental. We work to maintain open communication with every client.
No Team Beats Our Customer Service
No problem is too big or too small for our team to tackle on your behalf. We aim to set the standard in customer service. We do that by promptly responding to your inquiries & working tirelessly to keep you satisfied.
We Understand the Importance of Honesty
Many Seattle property managers make big promises, but end up underperforming and using hidden fees to hit you where it hurts. We do things differently: we are committed to offer transparent, effective management.
Get a free proposal and rental analysis
Determine the monthly rental value of your property.

Find out simple tools for boosting your profitability.

Learn whether your rental unit fits our management approach.
Greater Seattle's Property Management Professionals
You won't find a more accomplished team for your property.
If you own rentals in Seattle or the surrounding area, you know how much work it takes to keep your property reaching its performance benchmarks. From marketing and tenant placement to maintenance coordination and accounting, rental properties require ongoing attention. Don't be tempted by just any  property manager. Instead, choose a team that will work tirelessly to help you meet your goals.
At Umano Property Management, putting our clients first is at the very core of our approach to business. We don't just treat you like another number in the crowd. Our team works tirelessly to get great results for our clients. We're also experts in local real estate and we know how to optimize your unit for success. Learn more about us today or schedule a free rental analysis to get started.
Learn if we offer the right fit for your home: (206) 686-3661